Ben Vautier
1935, born in Naples, Italy
Livec in Nice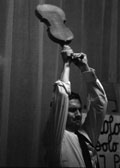 [+]
Ben Vautier performs Nam June Paik's
One for Violin Solo
, Prague 1966, Archive Ben Vautier
Gäbor Altorjay
Eric Andersen
Azorro
Robert Filliou
György Galántai
Tibor Hajas
Geoffrey Hendricks
Dick Higgins
Tadeusz Kantor
Danius Kesminas
Milan Knížák
Alison Knowles
Július Koller
Jarosław Kozłowski
Vytautas Landsbergis
George Maciunas
Jonas Mekas
Larry Miller
Ben(jamin) Patterson
Mieko (Chieko) Shiomi
Slave Pianos
Tamäs St. Auby
Endre Tót
Gábor Tóth
Nomeda und Gediminas Urbonas
Jiří Valoch
Ben Vautier
Branko Vučićević
Emmett Williams
After spending time in Turkey, Egypt and Switzerland, Vautier settled in Nice in 1949. He opened a gallery-shop there in 1958, which later became well-known as the gallery BDDT (Ben Doute de Tout). Around 1960, Vautier got to know the artists of Nouveau Réalisme, including Yves Klein and Daniel Spoerri. In autumn 1962, he travelled to London to the Festival of Misfits, where he encountered many Fluxus artists, with whom he subsequently collaborated in various ways. A year later, Vautier organised the Fluxus Festival of Total Art in Nice.
In his manifestos, texts and Mail Art actions, Vautier questioned art in general. First and foremost, his criticism is directed towards the artist's decisive motivation, which he saw as defined primarily by the desire for fame, attention and differentness – in short, by the ego. Vautier investigates this tendency of artists, which he also openly declares his own, in his actions and unmistakable text pictures. These sum up complex problems in simple statements and questions, and are often a description of the artist's own state as well. Another focus of his work is on the subject of "ethnism".
In 1966, Vautier organized a Fluxus concert together with Milan Knížák, Jeff Berner, Serge Oldenbourg, Dick Higgins and Alison Knowles in Prague. He was invited to documenta 5 in Kassel in 1972; in 1974, Galeria Foksal presented an individual exhibition of his work: Mon actuelle position en art. In 1979, he received a DAAD fellowship for Berlin. Vautier lives and works in his house in the hills near Nice; designed with numerous objects and text pictures, this house is a synthesis of the arts in itself and also contains a fantastic archive. It is also possible to access many of Vautier's works and scores, as well as other information on, his labyrinthine website.